NOTICIAS
3D Printing Is it a real alternative to organ transplantation?
The leading company in the REGEMAT 3D bioprinting sector faces new challenges with the opening of a new headquarters in Colombia
The creation of living human tissues for the regeneration of injuries and the creation of functional organs has gained strength in recent years thanks to the incursion of bioprinting technologies. This technology allows the printing in three dimensions of materials loaded with cells and opens the debate about the possibility of printing tissues and organs that could be implanted in humans. Fact or science fiction?
The REGEMAT 3D company located in the south of Spain, more specifically in the town of Granada, leads the implementation and development of these bioprinting technologies and has more than 60 active projects worldwide and a presence in more than 28 countries from around the globe. This Spanish company fully trusts the potential and advantages of using this technology in the same way that it does in its countless applications. They are currently being investigated together with groups from all over the planet, fully aware that there is still a long way to go and many milestones to face and resolve. The magnificent results and solutions achieved during the last years take the company to the top of the sector, proof of this are the innumerable publications related to the new developments achieved together with its collaborators.
REGEMAT 3D continues its expansion in Colombia with the opening of its new headquarters, from where they intend to continue facing technological challenges in the area of tissue bioprinting, developing their research in three-dimensional cell cultures.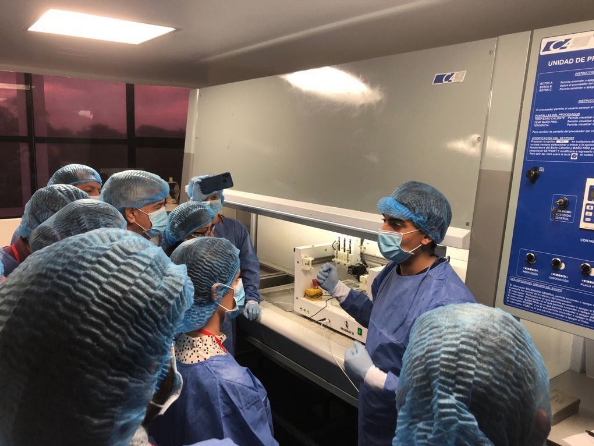 José Manuel Baena Martínez, founder and current CEO of the company, began its business activity in 2011 with the constitution of the first company in the BRECA Health Care group. At BRECA, custom prostheses and implants are developed, adapted to each patient and each case in particular, using various synthetic materials such as titanium or PEEK and it is one of the first companies in history to implant a printed prosthesis in 3D. Baena established REGEMAT 3D as a clear commitment to combining custom 3D printed medical devices using synthetic materials and bioprinted cell structures to regenerate tissue and injury.

"In the past, if you wanted to do a reconstruction with biodegradable biomaterials, the geometry and performance of medical devices restricted it. Now, with 3D printing, it's possible to offer a custom solution that combines a Synthetic medical device with a biodegradable one, they may even contain autologous (own) cells of the patient to improve regeneration. It should always be clarified that, currently, even if a functional tissue could be created in the laboratory, integration with the surrounding tissues will not occur instantly, but a custom-made synthetic medical device will help maintain structure and promote integration of bioprinted living tissue. There are many opportunities and applications for bioprinting and 3D printing in the short term, using or not using living cells, " According to explains to this medium the CEO of the company
REGEMAT 3D three-dimensional bioprinting systems have both their own software and hardware developed adapted for each application. " A bioprinter for all applications is an utopia, each new biomaterial or tissue needs its own system and configuration" quotes Baena "There are other bioprinter companies that sell this type of machine" manufactured in series "and claim that many different tissues can be printed with one system. This is not true, especially in the case of more complex organs. 3D bioprinting is the set of a wide range of technologies, not just one. If a researcher wants to innovate, wants to create unique things, you need a unique bioprinter that meets your real needs and generates new results. A bioprinter is not a microwave ", JM Baena, CEO BRECA Health Care.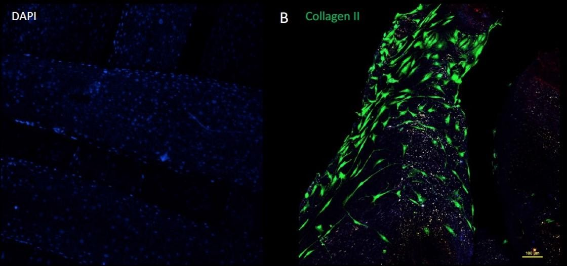 The company founded in 2015, was established with the aim of being able to convey to society the results of the Baena project together with Juan Antonio Marchal (Professor of the Faculty of Medicine at the University of Granada), who since 2011 focused in cell culture for cartilage regeneration. The evolution of the project has allowed REGEMAT 3D to have a presence in more than 28 countries and continues with a dizzying expansion worldwide.
"We focus on quality, not quantity. We get involved in the research project with our clients and collaborators. For us it is not about selling as many bioprinters as we can, but to obtain results that help us to develop as many innovative therapies as we can. There are still many milestones to overcome in bioprinting to create functional tissues, and organs, don't be fooled, it is a field with a lot of development potential, but there is still a lot of work to do. having a great success working with the biodegradable and bio-printed cellular part together with 3D printed medical devices, in collaboration with BRECA Health Care, whose union allows to face clinical applications in the short term, the results are incredible. It is a matter of time and effort ", JM Baena, CEO BRECA Health Care.