NEWS
Biomaterials Webinar Series
Bioprinting techniques seek to reproduce structures that we find in the human body, by depositing bioinks in an additive manufacturing process. Bioinks essentially contain cells, biological components and biomaterials necessary to generate three-dimensional structures similar to human tissues. The general bioink formulation consists in biomaterials made up of a combination of cells and biomolecules, which can be genetic material (DNA), drugs, growth factors, bioactive substances and extracellular matrix components.
An ideal bioink should possess the desired physicochemical properties, such as proper mechanical, rheological, chemical, and biological characteristics. These properties should lead to: (i) the generation of tissue constructs with adequate mechanical strength and robustness, while retaining the tissue-matching mechanics, preferably in a tunable manner; (ii) adjustable gelation and stabilization to aid the bioprinting of structures with high shape fidelity; (iii) biocompatibility and, if necessary, biodegradability mimicking the natural microenvironment of the tissues; (iv) suitability for chemical modifications to meet tissue-specific needs; and (v) the potential for large-scale production with minimum batch-to-batch variations.
Since determining the optimal cell-laden bioink formulation is the vital step toward successful bioprinting, to date, various natural and synthetic biomaterials with specific features have been utilized as bioinks. In this sense, hydrogels have numerous attractive features for use as tissue scaffolds. For example, they are biocompatible and typically biodegradable, and a majority of them possess specific cell-binding sites that are desirable for cell attachment, spreading, growth, and differentiation. In addition, some of these biomaterials in their modified forms can be readily photocrosslinked. Most used hydrogel biomaterials, include alginate, gelatin, collagen, fibrin/fibrinogen, hyaluronic acid (HA), agarose, chitosan, silk, decellularized extracellular matrix (dECM), poly(ethylene glycol) (PEG), and Pluronic.
At REGEMAT 3D we are aware that one of the key aspects to obtain an optimized bioprinting process, consists of having biomaterials with optimal biological and mechanical properties. At present, we offer a complete portfolio of both thermoplastics and biomaterials , which are optimized for 3D Bioprinting procedures. Likewise, an increasing number of research groups are dedicated primarily to the characterization and manufacturing of both natural and synthetic biomaterials, which offer important advantages for 3D cell culture, with respect to those currently available in the market. That is why our bioink research and production unit is in constant search of innovative materials and collaborating with research groups worldwide. In this way, we offer laboratories working in this field, the possibility of co-developing biotinks specialized for bioprinting, based on the materials developed in their research. With this aim, we offer a convenient and advantageous service that allows resulting products enter the market and be commercialized, through of our portfolio in more than 28 countries in which we have a presence and among the more than 7,000 clients in our database.
In this Biomaterials webinar series presented by REGEMAT 3D we want to give voice and promote the experimental design, scientific research, and results of our most innovative collaborators in the field of materials development, highlighting the fervent talents among young scientists.
About the speakers: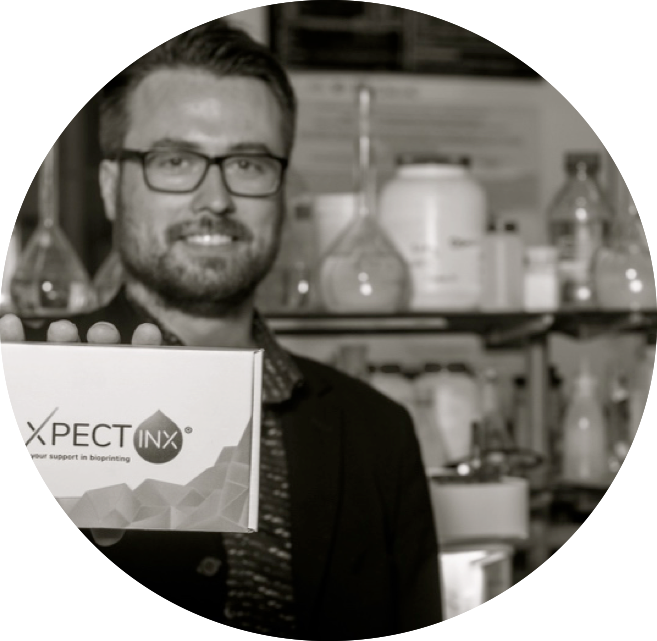 Dr. Jasper Van Hoorick:
Background in polymer chemistry. He received an Agoria award for his chemical master thesis on tissue engineering applications in 2014. In 2015 he started his joint-PhD at Ghent University and Vrije Universiteit Brussel where he focussed on the development of biodegradable polymer materials for ocular tissue regeneration. A large part of this research focussed on the development and processing of materials using multiphoton lithography leading to 20 Web of Science Core Collection papers, 1 book chapter, and 2 patents. In 2018 he aided in consolidating funding to develop the corneal membranes towards (pre)clinical applications. In 2019 he graduated summa cum laude with felicitations of the jury as PhD at Ghent University and Vrije Universiteit Brussel. Currently, he is leading the spin-off project "XPECT-INX" which focuses on the commercialisation of "bio-inks" for biofabrication applications.
"XPECT-INX: The exciting journey from Polymer Chemistry to Industry"
---
Dr. Vicente Linares:
Degree in Pharmacy at the University of Seville in 2017. Since then, he researches in 3D printing of new drug delivery systems. To be more specific, colon targeted drug delivery systems, which are able to release a controlled amount of drug in the colonic environment. For this purpose, 3D printing technique has become a feasible manufacturing way to obtain personalized-dose drugs. His research is carried out in the Pharmacy and Pharmaceutical Technology Department of the Faculty of Pharmacy in Seville, with the research team led by Dr. Isidoro Caraballo. During his PhD, Vicente has worked for one year and a half in the Pharmaceutical and Organic Chemistry Department as a research collaborator in a platform of new polymers derived from naturally occurring products with potential application in Pharmacy. He has been awarded for his first paper entitled: "Printfills: 3D printed systems combining Fused Deposition Modeling and Injection Volume Filling. Application to colon-specific drug delivery" with "The best Scientific Publication of November Prize" of the Faculty of Pharmacy. He currently collaborates with the International Journal of Pharmaceutics (Q1, Impact Factor: 4.845) reviewing articles related to 3D printing of medicines. Thanks to the experience acquired during these years, Vicente has also participated in the Basque Country Government´s project "Enhancement of strategic health research" as external assessor for the implementation of 3D printing systems in strategic areas for medicine manufacturing.
"3D Printed Matrix for Drug Release".
---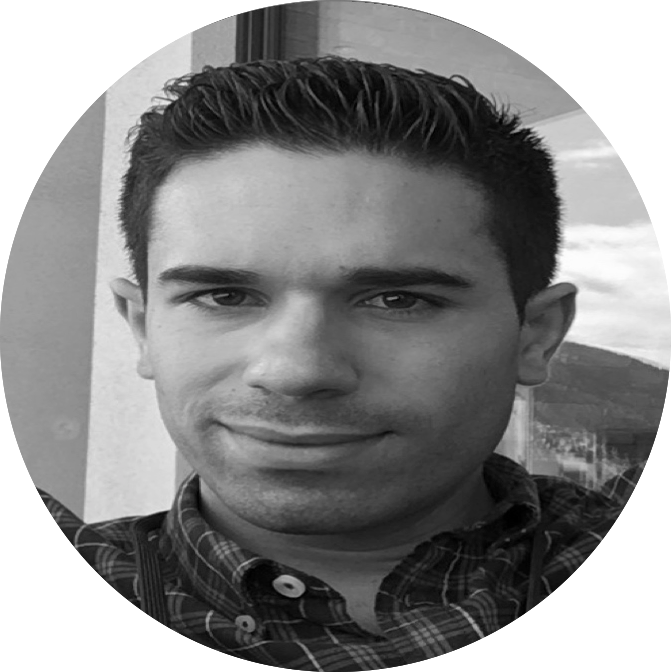 Dr. Rubén Pereira:
Assistant Professor of Biomaterials at ICBAS – Instituto de Ciências Biomédicas Abel Salazar (University of Porto) and research fellow at the Biofabrication Group at i3S – Instituto de Investigação e Inovação em Saúde. He holds a PhD in Biomedical Sciences with specialization in the development of cell-instructive bioinks for 3D bioprinting. Dr. Pereira has been collaborating with the pharmaceutical industry in the design of biomaterials for skin repair and has been invited as a professor at Polytechnic Institute of Leiria (ESSL) and University of Porto (ISEP). He has been involved in >10 research projects supported by the industry, national and international agencies (e.g., HydroZONES, IBEROS, SkinPrint, IREBID) in the fields of bioengineering, 3D bioprinting and tissue engineering. His research interests focus on the development of dynamic hydrogels and bioinks for the bioprinting of biomimetic cell microenvironments and in vitro tissue models for regenerative medicine applications, in particular to address relevant challenges in skin tissue engineering.
"Bioengineered Bioinks: Merging Biomaterial Design and Function"
---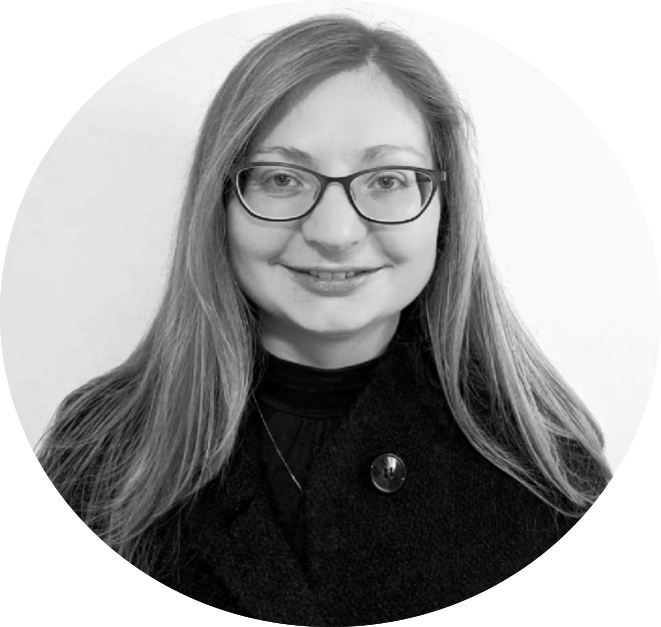 Dr. Natasha Lewis:
Biomaterials Scientist and Knowledge Transfer Partnership Associate working with the University of Glasgow and Cell Guidance Systems to develop biomaterials products incorporating PODSR (Polyhedrin Delivery System) growth factors. She completed her PhD in tissue engineering in Glasgow in 2017, followed by a postdoctoral position in the engineering department at the University of Cambridge and an industrial research role at Enplas before joining Cell Guidance Systems. Her current projects involve combining PODSR crystals, which provide a long term sustained source of growth factor, into a variety of biomaterials for various applications, including bioprinting, microspheres and microcarriers, and 3D cell culture including organoids. She is biomaterials specialist at Cell Guidance System, Cambridge, UK. which key product and service offerings cover exosome and regenerative research. The company develops innovate solutions for biomanufacturing and targeted protein therapies offering medical research tools and technologies that expand the possibilities of life science research and medicine.
"Functionalization of hydrogels with PODS® growth factors for sustained release in 3D cell culture"
---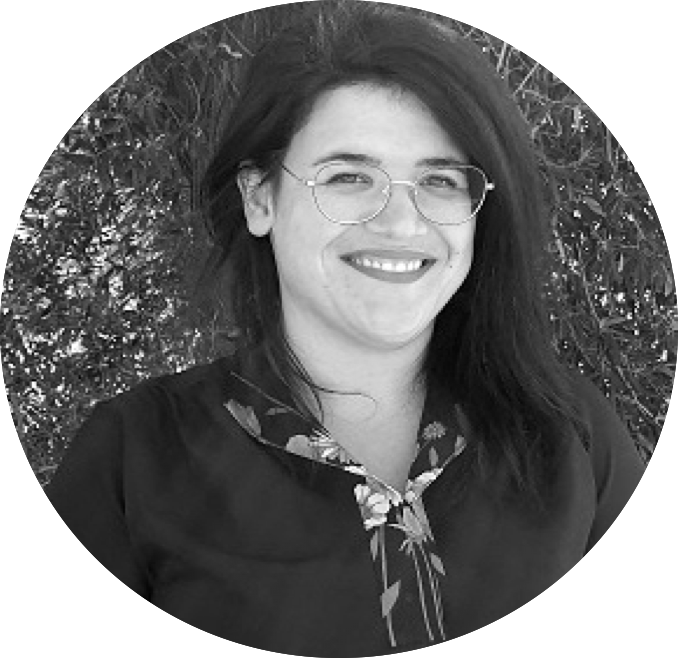 Dr. Anna Karatza:
Materials engineer with a demonstrated history of working in research laboratories. Skilled in Materials Science and Engineering, stimuli response polymers and nanomaterials' synthesis, characterization and application research. She is a strong research professional with a Master's degree in Materials Science and Technology focused on stimuli-responsive materials as candidates for drug release applications. Her recent research interest focuses on 3D printing technologies of composite, synthetic and natural materials mainly serving the sector of medical applications. She represents Biog3D, a research and development company in the field of advanced manufacturing methods. The company's know-how covers the whole range of design and development of new products, from the initial conception to the construction and evaluation of functional prototypes, using advanced digitization and design tools, different 3D printing technologies as well as experimental materials and nanomaterials.
"Additive Manufacturing of Hydroxapatite – based Scaffolds for Tissue Regeneration Applications"
---